Great news! The My Craft Spot design team is gearing up for the Fall Stamp Release Party scheduled for the first week of September!! There are five fabulous new stamp sets - plus two sets wonderful metal dies to add to your collection.
Here's the Stamp Release Party Button. Post it on your blog to spread the word! In fact, once you've posted it, head back to
My Craft Spot to let Kimberly know you've done so for your chance to win the Spooky Treats stamp set!!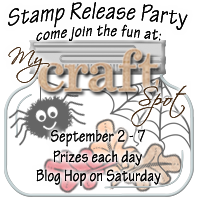 Once the party starts, there will be prizes each day and a blog hop on Saturday, with prizes at EACH stop along the way!
Here's the Spooky Treats stamp set you could win by telling Kimberly you've added the button to your blog. Leave a comment HERE to let her know!
(Click the word "HERE" to go to Kimberly's announcement post to leave a comment.)