Happy National Tooth Fairy Day! I actually did not know that there was such a day... but somebody is on the ball at
Fantabulous Cricut
and let us all know. In fact, to honour the day, we are challenging you to include a tooth, tooth fairy or a smile on your project.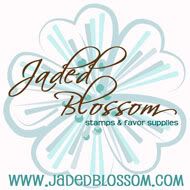 This week, a few of the design team members at Fantabulous Cricut were treated to some stamps from
Jaded Blossom
. I was one of the lucky ones!
Jaded Blossom
is run by
Candace
and Michelle. I first met
Candace
when I started blogging. In fact, she was on the Fantabulous Cricut design team and really encouraged me as I started crafting.
Candace
always had a great knack for creating little trinkets, boxes and favours - and still does! In fact,
Candace
and Michelle began
Jaded Blossom
to create stamps and sentiments geared toward the creation of party items and favours.
For this week's challenge, I decided to create a tooth fairy box - but one for a boy! Usually, when I think of fairies, I think of little girls. However, boys lose their teeth as well and I wanted to create something that a boy could use to keep his tooth safe while waiting for a visit from the tooth fairy.
I used Easter 2010 for the little pillow box and blue spiked circle. Mini Monograms was used for the white circle, and I used a
Jaded Blossom
stamp to frame the toothy beaver - which was cut from Create a Critter and stamped with a face from
Peachy Keen
's Wide Eyed and Bushy Tailed set. I thought the beaver - with his big teeth - was perfect for a tooth box! Finally, a little banner was cut from Twinkle Toes and stamped with a
Jaded Blossom
sentiment. I did some inking, and then added a button and some fabulous Blueberry baker's twine from
My Craft Spot
to finish things off.
Please head over to
Fantabulous Cricut
to see what the rest of the design team has made for this week's challenge - and link up your own project for your chance to win the
Jaded Blossom
"Tooth Fairy" and "Tooth Notes" stamp sets.
PS I start my new job today - plus on Wednesday I will receive my thesis paper with comments for modifications to be made... all to be completed and handed back in by next Monday!! Also, two of my children have birthdays this week. I'm not sure how I will be able to do it all, and I am reminding myself that these sorts of times in our lives always seem to work themselves out. I'm just hoping for a few hours of sleep here and there!!